October 1, 2021
People use CBD flowers for their ability to provide relief from pain, inflammation, and anxiety without the high associated with THC (tetrahydrocannabinol). Cannaflower CBD flowers, also known as hemp buds or buds, are unbloomed, dried, and cured flower of the hemp plant. CBD hemp flowers contain significant amounts of CBD and have little to no THC. For this reason, CBD flower is a popular choice for smoking or infusing into edibles or CBD oils. With this Cannaflower review, we'll discuss important information you should know about Cannaflower CBD hemp flowers. We'll also put Cannaflower CBD flowers to the test and will share our honest opinions of each strain.
I received a complimentary Cannaflower Discovery box to review in exchange for sharing my honest opinion. All thoughts are my own.
What is Cannaflower CBD Hemp Flower?
Before we share our Cannaflower review, we'll first cover the basics of CBD flowers. CBD flowers can be sourced from two different plants – hemp and marijuana. While both plants are from the cannabis family, they differ in very important ways. Namely, flowers derived from marijuana plants will have a high level of THC, the psychoactive compound that makes you high. Conversely, CBD flowers sourced from hemp plants – CBD hemp flowers – contain very little to no amount of THC. Federal law dictates that all CBD products must be made with industrialized hemp and contain less than 0.3% THC. To learn more about CBD hemp flowers and how to use them, read our ultimate guide to CBD flowers.
Cannaflower CBD Hemp Flower Features
Cannaflower premium CBD hemp Flower is an all-natural product often used to help treat inflammation, chronic pain, anxiety, and other conditions. While there are a lot of different CBD flower brands on the market, not all of them offer potent, high-quality CBD hemp flowers. Here are a few reasons Cannaflower CBD hemp flowers are special:
Hand-picked, slow-cured buds
Cannaflower curates top-shelf, artisan-level CBD hemp flowers. After harvest, the CBD flower buds are hand-trimmed and slow-cured for 90 days. Whole CBD hemp flower buds are bagged to order, ensuring your CBD flower arrives with maximum freshness.
Healthy Soil Growing Practices
Cultivated in Colorado, USA, Cannaflower utilizes regenerative and living soil practices to grow its premium CBD flower. This helps each plant reach its fullest potential, maximizing aromatic terpenes and therapeutic cannabinoids. Cannaflower's plants are grown in organic soil, without any pesticides or herbicides.
Safety & Lab Testing
Cannaflower holds themselves to the highest integrity for their CBD products. They perform third-party lab testing for each of their products and provide the latest certificate of analysis for customers to view or download.
Large Variety of CBD Flower Strains
Whether you want to boost your mood, need help falling asleep, or simply want to relax, Cannaflower will have the perfect CBD hemp flower strain to fit your needs.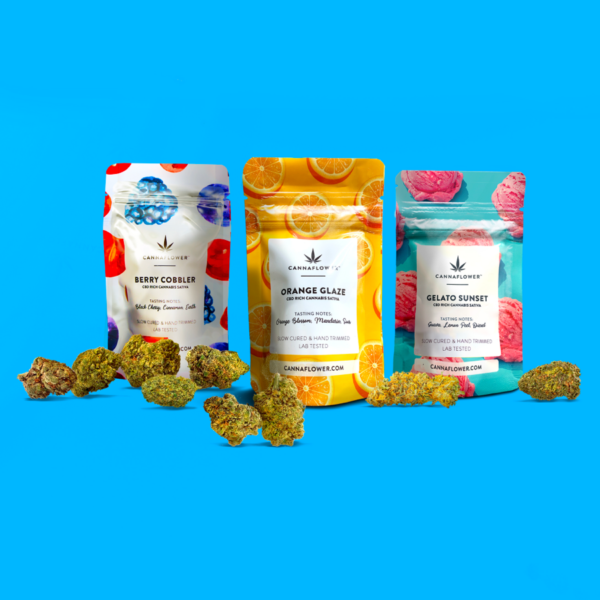 Cannaflower currently offers whole CBD hemp flower buds in 1 gram, 3.5 gram, 7 gram, 14 gram, and 1 ounce amounts. They also sell CBD pre-rolled joints made using their premium CBD hemp flower.
CBD Flower Pre-Rolls
CBD flower pre-rolls are a popular way to enjoy the benefits of CBD. The CBD flower pre-rolls are simply CBD flowers already ground and pre-rolled into a joint. CBD flower pre-rolled joints usually have cardboard tips and are wrapped using cigarette papers. Generally, CBD Flower pre-rolls contain 1g of ground CBD flower. Cannaflower sells a variety CBD pre-rolled joints made with their premium CBD flower, so you can choose the best strain for your needs and get the most out of your CBD hemp flower pre-roll. Each Cannaflower pre-roll is packed with 1g of CBD flower containing 150mg of CBD.
Cannaflower Discovery Boxes
Cannaflower's Discovery Box series is a great way for new CBD flowers users to experience CBD flower. With three boxes to choose from, each Cannaflower Discovery Box offers a variety of premium CBD flower strains for you to try. If you don't know which CBD strains you like, these discovery boxes let you try up to seven different CBD flowers to help you find the best CBD hemp flower for you.
Order the Cannaflower Discovery Box and receive a $20 gift card toward your next purchase.
What's in the Cannaflower Discovery Box: Unboxing
Now that we've given you some background about CBD hemp flowers, it's time to unbox our Cannaflower Discovery Box and put these strains to the test.
Our Cannaflower Discover Box featured three of Cannaflower's most popular CBD flower strains. The box includes:
Lifter CBD Hemp Flower
Sour Space Candy CBD Hemp Flower
Bubba Kush Pre-Roll
The Cannaflower Discovery box also had a package of cigarette wrappers for you to use to roll your own CBD flower joints. Finally, the box also had an information card, various stickers, and a pin.
That's everything inside the Cannaflower Discovery Box! So, now it's time to share our review of the CBD flower strains included in the box.
Cannaflower Bubba Kush Pre-Roll Review
The Cannaflower Bubba Kush Pre-Roll was the first item we tried from the box. It was our first choice to try for the same reason a lot of people prefer CBD pre-rolled joints – it was ready to smoke right out of the tube. The pre-rolled joint lit easily and offered a good hit.
Because Bubba Kush is an indica-dominant CBD flower strain, many people use it at the end of the day to help induce relaxation or sleep. However, we decided to test it out late one afternoon. The first thing I noticed was the strong flavor of the hit. Some strains offer very subtle or light smokes. Bubba Kush is a bit more pungent and has a definite body to it. I thought there was an earthy, somewhat peppery aftertaste that lingered on the exhale. The spicy or peppery flavor is caused by high levels of the terpene Caryophyllene, which is present in this strain.
You can verify the terpene and cannabinoid profiles through the provided Certificate of Analysis (CoA.) The Cannaflower Bubba Kush Certificate of Analysis of available for download from the Cannaflower site, or by scanning the QR code on the product packaging.
About 15 minutes after the first hit, I could definitely feel myself starting to relax. The body was a little heavier, and my mind, which is often filled with a running list of to-do's, was able to slow down. I wasn't so relaxed that I couldn't get dinner cooked, but it was enough that I had to "will" myself to get it cooked. That being said, when it was time to sleep, I fell asleep easily and slept soundly. I woke up feeling refreshed and ready for the next day.
Cannaflower Sour Space Candy CBD Flower Review
Next, we tried Cannaflower's Sour Space Candy CBD hemp flower. This arrived as a whole flower bud. The bags are sealed to help preserve freshness. The bud itself had the perfect level of cure. (You don't want a bud that is too dry, or it will grind up too small. Too wet, and the bud will be sticky. Both of these things would affect the quality and experience of smoking CBD flower.) We decided to grind it up and smoke it as a joint.
The whole flower ground up very nicely. The cure on this flower was spot-on – neither too wet nor too dry.
Sour Space Candy CBD Flower has a noticeable flavor to the smoke. Cannaflower's tasting notes for Sour Space Candy are Sour, Lemon Grass, Diesel. For me, it seemed more like sour citrus with a hint of sweetness at the end. There wasn't any pungency that I typically associate with Diesel flavors. The smoke was pretty light in terms of body, but still pleasant.
Once again, I felt the effects within minutes. However, unlike after smoking Bubba Kush, my mind felt more alive. I was incredibly productive after smoking Sour Space Candy. It felt like I could focus more easily on what I was doing, but didn't experience any tiredness or drowsiness. I think Sour Space Candy is great for a daytime smoke or when you're socializing with friends and don't want to get too relaxed.
Cannaflower Lifter CBD Flower Review
Finally, we tested out the Lifter CBD flower from Cannaflower. (Note, these were tested across multiple days so we could better observe the effects of each strain.) Lifter CBD flower is supposed to be great when you want a creative boost, so the mid-afternoon "slump" was the perfect time to give it a try.
Cannaflower's tasting notes are Lemon Peel, Earth, and Clove. Personally, I enjoyed the flavor of Lifter a lot. It had a good, smokey hit but wasn't too strong. The different flavors you taste will vary based on the terpenes and cannabinoids present in the strain you're smoking. I could detect the earthy flavor, but the overall flavor wasn't too strong. For me, Lifter was the perfect blend of simple clean flavors with a nice, robust smoke.
The effects of smoking Lifter CBD Flower were very similar to those of Sour Space Candy. An overall relaxed – but not too relaxed feeling, while keeping the mind alert and awake.
Cannaflower Review Final Thoughts: Are Cannaflower CBD Flowers worth it?
With whole CBD hemp flower prices ranging from $8.95-$34.95 per gram, Cannaflower is one of the more affordable premium CBD flower brands on the market. Considering the superb CBD flower quality with a reasonable per gram price, I definitely think Cannaflower CBD flowers are worth it.
After smoking all three Cannaflower CBD flower strains, I can say that Cannaflower offers a great CBD hemp flower for smoking. Of the 3, I think the Lifter Strain is my choice for daytime smoking, and Bubba Kush is good for evening smokes. Sour Space Candy was nice – I just prefer the bolder, more present smoking experience of the other strains.
I also really appreciated that both whole flowers were perfectly cured. They were neither too dry, nor too sticky. I also really liked that there was very little stem – which matters when you're buying plants based on weight. (You don't want to pay for plant parts you can't smoke!)
Finally, I love that Cannaflower offers such a wide variety of smokeable CBD hemp flower strains. They even have limited edition strains, giving people an opportunity to try new CBD flower strains. The Cannaflower website provides detailed information for each strain, as well as a brief description of the types of effects you can expect from smoking it.
Whether you're new to smoking CBD flowers, or are an experienced user, Cannaflower will offer the perfect smokeable CBD hemp flower for you.
What are the best Cannaflower CBD Flower Strains?
Cannaflower offers a variety of CBD flower strains for sale, so you can choose the strain that best suits your mood or wellness goals. Here are the top 5 most popular Cannaflower CBD flower strains, and what you can expect to feel when you use them.
Hawaiian Haze CBD Hemp Flower – A great relaxing strain for anytime, day or night
$9.95-$109.95
This CBD flower is perfect for those who need to unwind from a stressful day or want to relax with an uplifting experience. With flavors of warm citrus, sour diesel, and tropical fruit, Cannaflower Hawaiian Haze CBD hemp flower is also a top choice for when the body needs a little TLC.
Lifter CBD Hemp Flower – For the next time you need a little creative lift
$9.95-$109.95
Cannaflower Lifter flower is the perfect option for anyone who needs a little creative inspiration, or just something to lift their mood. This uplifting strain will help you feel motivated and ready to take on the day. Lifter delivers an enlivened calm for all-day relaxation while keeping a clear head. Limonene, Linalool, and Humulene are a few of the major terpenes that help make Lifter a true upbeat and inspiring strain.
Sour Space Candy CBD Hemp Flower – A great daytime strain for when you want an enlivened calm
$9.95-$109.95
Cannaflower Sour Space Candy hemp flower is the perfect option for anyone who needs to clear their heads and stay calm. With high levels of terpenes b-Caryophyllene and a-Pinene, Sour Space Candy is a perfect option for all-day relaxation. These dense purple/green buds floral notes of lemon, cheese, and tropical fruit when smoked.
Bubba Kush – A true indica-dominant hemp strain making it a perfect evening choice
$8.95-$109.95
Cannaflower Bubba Kush CBD hemp flower is an indica-dominant strain that works wonders for those with an evening routine. This relaxing strain will help you ease into the night and get the sleep you need.
Cherry Wine – The perfect bedside companion
$8.95-$109.95
Cannaflower's Cherry Wine is a premium low-THC CBD hemp flower that is the perfect bedside companion for those who need to ease into nighttime. With a pop of sweet stone fruit layered with piney and peppery undertones, high levels of b-Caryophyllene and Linalool give this CBD bud its rich nose and a relaxing therapeutic effect.
What is Cannaflower?
After starting as Berkshire CBD three years ago, the company evloved into Cannaflower – a premium artisan CBD hemp flower brand that provides an excellent customer experience to everyone. Cannaflower is a CBD brand that designs CBD products that utilize the benefits of whole plant medicine. They use their own proprietary low THC cannabis flower strains to create CBD products that are tested for quality and potency. Through excellent farming practices, cultivation, and artisan trimming, Cannaflower offers products that shine with the highest standards in modern CBD luxury. Cannaflower offers a wide variety of CBD flower strains and flower-based CBD oils.
Where to buy Cannaflower CBD Flowers
The best place to buy Cannaflower CBD hemp flower is online at the Cannaflower website. Cannaflower offers free shipping on orders of $75 or more.
Cannaflower Coupon Code: Save on CBD Hemp Flowers
Use our Cannaflower coupon code to save on your next purchase from cannaflower.com. Shop now & save 15% off your first order using the Cannaflower.com promo code below.
15% OFF
Coupon
Doesn't expire
Other Cannaflower CBD Products
In addition to their whole CBD hemp flowers and CBD pre-rolled joints, Cannaflower offers CBD oils and a CBD flower subscription box. They also sell high-quality wholesale CBD flower.
Cannaflower's collection of small batch, single strain, full spectrum CBD oils is crafted with the goal of preserving as much of the whole plant as possible. These extracts are made with organically grown CBD hemp flower infused with organic MCT oil.
The Cannaflower Club Box is $49.95 per month and comes with a collection of small-batch CBD flowers, curated by the Cannaflower team. The subscription box delivers your new collection of exclusive, curated CBD flower strains discreetly to your door, every month. The Cannaflower Club Box is a great way to try a variety of CBD products in one box for a low monthly cost.
Cannaflower Frequently Asked Questions
What are the benefits of CBD Flower?
CBD Flower, or CBD hemp flower, has many benefits. One of the most popular is pain relief. It can alleviate symptoms such as cramps, back pain, and headaches. CBD can also help relieve stress and anxiety. CBD flowers may be used for insomnia, and they provide relaxation without the intoxicating effects that THC has. Additionally, people often use CBD flowers to avoid the negative side-effects associated with THC, such as paranoia and increased heart rate.
Is Cannaflower CBD Legal?
Cannaflower CBD is legal in all 50 states. The 2018 Farm Bill legalized CBD products made with industrialized hemp and containing less than 0.3% THC. If you aren't sure if products with THC are allowed, check with your local laws before you purchase Cannaflower CBD.
Is Cannaflower CBD Flower Safe?
Cannaflower CBD Flower is safe for consumption and is non-intoxicating. Additionally, a 2018 report about Cannabidiol (CBD) released by the World Health Organization (WHO) stated that CBD is "generally well tolerated with a good safety profile."
To uphold the highest integrity for their products, Cannaflower also performs third-party lab testing on all of their CBD products. The latest CoAs are available to view or download by scanning the QR code on the product packaging or from the Cannaflower website.
CBD Flower Dosage – How Much Cannaflower CBD Should You Smoke?
There is no single correct answer to how much CBD flower you should smoke. This is because the CBD dosage needed varies from person to person based on age, weight, fitness level, etc. Additionally, each CBD flower strain will have different levels of CBD and other cannabinoids and terpenes. As such, it does take a little bit of trial and error to find the perfect CBD flower dosage for your needs. If you aren't sure about how much CBD flower you should take, start with a small amount (for example, one or two hits of a CBD flower joint) and observe the effects. Gradually increase the dosage (smoke more) until you feel the desired effects.
Will Cannaflower CBD Make Me Feel High?
You will not experience a "high" feeling from inhaling or ingesting Cannaflower CBD flower. This is because all of Cannaflower's CBD products contain less than 0.3% THC. THC (tetrahydrocannabinol) is a natural compound found in the Cannabis plant that causes the "high" feeling.