October 25, 2019
For a long time, cannabis has been used to treat several issues. As such, companies are now processing it to fit these needs and packaging it to attract today?s consumer. One company that has managed this feat is CBD for Life.
CBD for Life Brand Overview
CBD for Life is a company founded on wellness and self-care through the use of cannabis. It started when one of the founders created a balm that was meant to ease the pain. She soon discovered that the ointment had a dual purpose; it worked as a healing balm and a skin cleansing product. It worked so well that the product morphed into several others that fit the wellness bill all too well.
The main idea behind the line of products was to come up with natural products whose main ingredient would be CBD, which would offer health and beauty benefits. This purpose was also the vision on which the company was founded.
It is important to note that the principal strain of cannabis used in the products here is Sativa, as shown in most of the products' ingredients.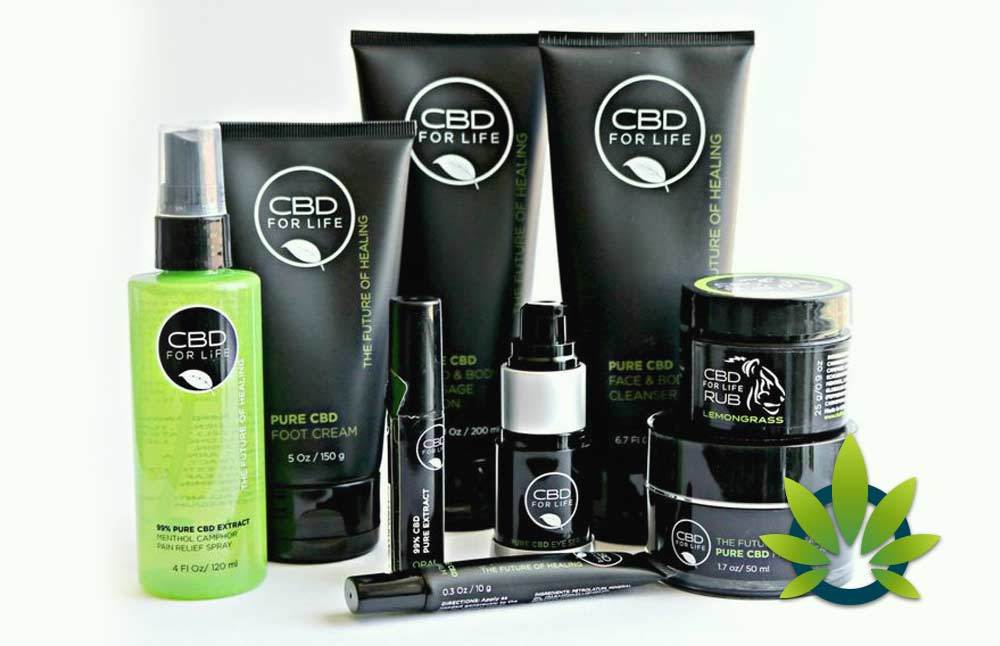 CBD for Life CBD Products
CBD for Life has worked to have quite the selection of products. Generally, it has two primary lines of products: health and beauty. The beauty line caters to physical wellness. It contains three categories; these are face, body, and hair. These products come in the shade of balms, scrubs, lotions, shampoos, and conditioners. The wellness line comes in the color of pain relief sprays, serums, bath bombs, oral sprays, rubs, and roll-ons.
CBD Product Contents
One requirement that is paid attention to in the CBD range is the list of ingredients used in making the product. For the most part, CBD for Life has tried to keep its product range mostly natural, in that most of the products contain a high percentage of natural ingredients. The fact that this company ensures that each product?s ingredients are listed shows transparency that is indeed commendable.
For instance, the Rub Lavender contains coconut oil, eucalyptus leaf oil, lemon balm, hydrogenated soybean oil, carnauba wax, rosemary leaf oil, and of course, cannabis Sativa seed oil, among others. Take an example of a health product, just for comparison.
The Menthol Camphor Pain Relief Spray, for instance, contains witch hazel, camphor menthol, peppermint oil, aloe leaf extract, arnica flower extract, eucalyptus leaf oil, cannabinoid, and water as the natural ingredients. It does, however, also contain chemicals like alcohol, tocopheryl acetate, allantoin, potassium sorbate, and sodium benzoate, so it is not all-natural. Unfortunately, this is not the only product in this range that is not all-natural as claimed.
CBD for Life Pricing and Consumer Experience
As compared to most natural products, the products here are reasonably priced. They keep their products below the $100 mark, which is rare in the CBD industry. However, some may argue that this is because not all of their products are 100% natural.
The website offers the consumer many options on how to find the product they may need. It shelves the different ranges of products into separate pages, probably in a bid to make it easy to navigate through. Each product is fully detailed in terms of ingredients, how to use it, and even price.
For a consumer who is in a hurry, this can be a problem because they cannot see the full list at once and would thus not be able to make a quick choice. For the thorough consumer, this is an advantage as they can quickly get to see everything a product has to offer without being crowded by other options.
Validation
Much as they describe the ingredients in detail, they do not show any certification of Analysis to prove the validity of what they say. They do, however, offer the option of contacting them for mentioned certifications where needed. The average consumer may not have the time to do this and would probably move to another website that can offer such certification.
Pros
They have an extensive product range, giving consumers options to choose from
The prices are not scary
They provide a 30-day guarantee
Easy to locate a store near you through the site
Ingredients are listed, you know what you are getting yourself into before purchase
They explain how to use the products
They give precautions where necessary
Its range of tinctures are a unique blend
Cons
The products are not 100% natural as claimed
No verification certificates or even lab tests to prove product validity
CBD content in commodities is not clear
The website is not an easy-to-browse kind, especially not on the product line
Best Selling CBD for Life Products
The CBD Rub: this was the original product that launched the company in the first place. It is no wonder it is a top seller. The CBD Rub offers pain relief on any section once applied for a while. It also provides a skin cleansing function.
CBD Face cream: since many of the consumers are in for beauty hacks; this cream provides that. It is designed to rejuvenate skin and provide anti-aging solutions that are hidden in the CBD oil.
CBD Tincture: unlike most other tinctures, this product combines the goodness of CBD isolates with phytocannabinoid oil, a blend unique only to this brand. It has been claimed to have a unique effect.
CBD for Life Review: Final Thoughts
Since its launch, CBD for Life has done well in reaching consumers. It is one of the leading names mentioned in CBD product lines. The feedback given by most consumers is that the products work, thus achieving excellent customer success.
With the target audience being women, this company has done well in packaging the products to appeal to their audience, in color, scent, and content. The main disappointment here is the fact that it claims to have purely natural products but does not. Consumers require total transparency although it has proven to achieve 90% natural product content overall.